ARAGONA-ARLEDGE WEDDING
The Aragona family has been clients and friends for over a decade, so doing Sarah's wedding was like doing a wedding for family. Sarah's mom, Sandra, said from the start that she wanted to see possible venues, but that their home was a back up option. Their house is a beautiful property on Lake Austin with a perfectly flat, expansive green yard that comes right up to the water, with the cliffs of Mount Bonnell creating a dramatic backdrop directly across the lake. So I told Sandra that I could show them venues, but none of them would be as perfect as their home.
For the ceremony, we built a round stage that was large enough to fit Sarah and Cole plus all 24 of their wedding party. Townsley Designs can build anything you can dream up and they're known for making it absolutely perfect, whatever it is. We asked them to take on the task of making our giant round stage.

I also had the pleasure of working with my favorite florist, David Kurio, to take things to the next level. David and his team finished out the stage with jaw dropping arrangements of cantilevered calla lilies in tall modern vases and a border of lush hydrangeas. We had unforgettable floral "walls" that formed the entry for guests and the wedding party. If you've never walked through two walls of solid flowers, you should give it a try.
After the ceremony, guests walked a few steps for cocktails and passed appetizers by one of Austin's longest reigning "best restaurants," Uchi. Uchi was the brainchild of James Beard award winner, Tyson Cole. His creations are technically sushi, but the word "sushi" doesn't quite do his food justice.

Once the cocktail hour finished, guests found their seats for dinner under a sailcloth tent. I love sailcloth tents because they give gorgeous light and visual details when the sun shines through the fabric. Word of Mouth took over the food from that point and knocked it out of the park with a high-end comfort food family-style dinner, if that description makes any sense. Think of everything you love to eat and now picture the best, most beautiful version of that.

The entire wedding was designed in shades of taupe, white and gray. We used one of my favorite combinations for the escort cards and place cards: gray card stock with white calligraphy (by Teri Gaus with At Long Last Letters). The escort cards were displayed in sparkling white sand in acrylic trays. Our linens were a beautiful taupe from BBJ Linen called Taupe Lamour. It's the perfect neutral linen that gives the perfect warm backdrop to almost any tablescape. To make the dinner tables glow, David used mixed arrangements with varying shades of white blooms and large cut glass hurricanes.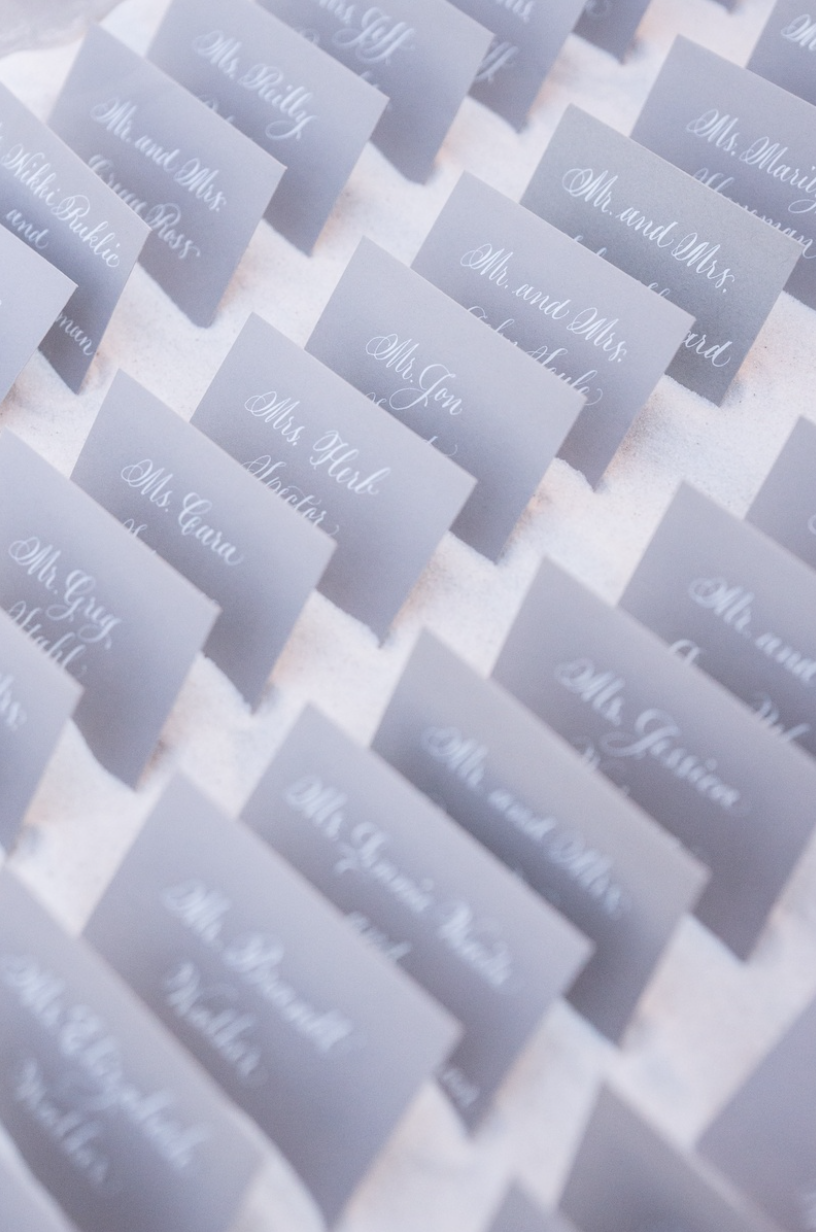 After dinner, everyone moved out to the yard and pool for dancing, where Townsley Designs had turned the ceremony location into cozy lounge areas with fire pits. Perfectly mixed chandeliers hung from a tree over the reception area making us almost forget we were outside. The Jimmy Vali Band had them dancing way past the city's noise ordinance curfew. P. Terry's burger truck pull up in front of the house to surprise guests with late night snacks.
My favorite shot by photographer, Robert Evans, was the first dance in front of our vintage marquee sign that says DANCE. There were so many amazing photos though, it's hard to say "my favorite." Robert captured everything perfectly as always.
Sarah and Cole's wedding was featured in Inside Weddings. You can read the article here and learn more about their story.